Stratford-upon-Avon is easily the most overrated tourist trap in England. Of course, you have to go there if you visit England, in the same sense that you have to go to Disneyland if you are in Anaheim, or how you have to drink rusty rain water if you are in a Japanese War camp. It's just what you do. For true bardolaters like myself, Stratford is a necessary evil. We walk around with our noses up, snooting at all the gawky Americans and the snap-happy Japanese like we own the place. Any town that puts their McDonalds employees in Elizabethan uniforms has reached the zenith of garish tourism. But, OK.
That being said, I've realized that Stratford is not to be merely visited, but to be thoroughly
felt
. And you don't necessarily feel it on the hop-on Shakespeare bus. I've visited Stratford three times, and each time I felt the place in curious ways: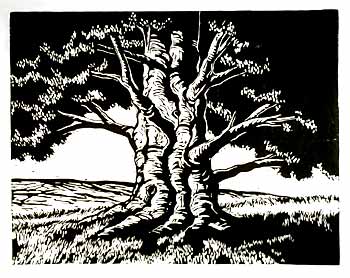 1. 1993. I stole a pear off one of the trees in Anne Hathaway's garden and ate it covertly in the shade of a mulberry.
2. 2002. Sitting with Ros, Christian, Kelley, Hannah, and Sherri in Hall's Croft cafe. Blustery wet February day outside. The walls were salmon red. Roz told us some funny stories.
3. 2006. After an underwhelming performance of
Romeo and Juliet
(instead of sword fights,
Irish Dancing
!)I walked along the banks of the river Avon until about 1:30 am. Don't worry, I wasn't alone. I had my ipod. The moon was out, lighting up the weeping willows, and the pathway was clear and manageable. Holy Trinity church chimed midnight and then one, and I couldn't go back to bed on such a warm and luminous night.
Oddly enough, the words that kept ringing in my head weren't Shakespeare at all, but Robert Frost:
I have been one acquainted with the night.
I have walked out in rain -- and back in rain.
I have outwalked the furthest city light.
I have looked down the saddest city lane.
I have passed by the watchman on his beat
And dropped my eyes, unwilling to explain.
I have stood still and stopped the sound of feet
When far away an interrupted cry
Came over houses from another street,
But not to call me back or say good-bye;
And further still at an unearthly height,
One luminary clock against the sky
Proclaimed the time was neither wrong nor right.
I have been one acquainted with the night.
Happy to have felt Stratford finally, I was happily resigned to being a tourist again. The next day, Mark, Lexi and I rented a little skiff (name: Viola) and paddled along the river. We made some flatulent noises at some bossy British ladies, and I gave Mark and Lexi a
Much Ado
quiz, which they aced. Finally, hearing the splash of a kayakker in distress, we slid down the river to pull her out of the water and realized it was Neve Campbell, from TV's Party of Five. She looked like a drowned rat, but who am I to judge? My head was pink from all that Warwickshire sunshine.