OK, so, yeah, it was my birthday. I'm 35, if you are counting, and I hope it shocks you. I look great!
If I had to spend my birthday away from home, I'd do it in London. Except maybe I'd have my family with me. That would complete it. Because I realize that birthdays aren't really about you, they are about the people you choose to spend them with. Think about it.
I spent the first half of my day waiting for the wolverines. They ambled in, one by one, looking groggy. Mark Pugh, my program assistant, brought four with him, and another six or seven came on their own throughout the morning. Two got left behind by cancelled flights or missed connections, so they get here tomorrow. But all morning I lay reading in my bed until I'd the hear the buzz upstairs. I'd run up and find a bleary eyed student ladled with luggage on the front porch. And I would take them in and give them shelter, like a nun at a convent. Yes, that's exactly it. A nun at a convent.
Once Mark got here I left him in charge of door duty and ran down Old Brompton and up Gloucester to my favorite little pizza joint. I had a nice pizza with olives, bacon, mushrooms, and tomatoes. I don't know why I did the tomatoes - I hate tomatoes! I guess I was feeling healthy. Somebody stop me before I start eating healthy food - it's really not my thing. Unless Lisa makes me do it. I miss her.
Once everyone was here we did a giant neighborhood tour. We hit all the exciting spots: the laundromat, the Sainsbury's, the church, that really ridiculous golden Albert monument, the bus, H&M, the tube, and I pointed out to everyone the KFC where Miles wet his pants. It's important that they know that story.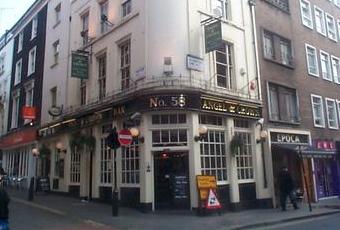 But my birthday didn't really kick into gear until tonight, when I declared that we would be doing dinner and a show! The dinner would be my choice, and so would the show. What? I'm the special boy. That's the dealio. So we had pub food at the Angel & Crown on St. Martin's and everyone seemed to enjoy their bangers and mash served up by really authentic English servers. By really authentic English servers I mean some Asian girls. Then we made a mad dash - literally a mad dash - like, on foot - about ten blocks to catch the 7:45 showing of
The Drowsy Chaperone
. We got amazing seats on the floor at the student rate - 15 pounds. That's super cheap, yo.
I don't know if you are familiar with this show, but it turns the wacky up to eleven. It won all kinds of Tony Awards on Broadway but it's closing here. I have no idea why. It was one of the funniest, most entertaining things I've ever seen. It's a spoof of those cheesy old 1920's musicals. There is a song in it called
I Don't Wanna Show Off
that was written for my sister Courtney. Lots of tap dancing, spit takes, Charleston, blind-folded roller skaters, a Chinese number, and a romantic song about a monkey. I loved it.
Afterwards we walked all the way through town and then took the tube from St. James' Park to Gloucester Road so I could have some birthday cake at the Patisserie.