When I tell you that I spent the majority of today by myself, you shouldn't feel bad for me. I needed it, and it was dandy. The thing is, most of the students have taken off for the weekend; one big group is in Ireland and another left for Spain this morning. There are a handful of students still around, but not many. So after teaching class this morning and a quick trip to the Theatre Museum, I found myself with time to kill and money to burn. And by money to burn, I mean about two pounds which was quickly swapped for a pork and apple pasty.
So today I walked. I was alone, I was handsome, and the air was bright. My first destination was the Thames, as it often is on days like today. Windy and overcast, but still warm enough to enjoy being outside. Jacket weather. I walked over the Embankment bridge to the south bank, and here are some of the things I saw:
Here are some of the tunes playing on my ipod, which I will likely forever associate with the river Thames:
I Found a Reason
- Cat Power
Hide and Seek
- Imogen Heap
Fix You
- Coldplay
This is the First Day of My Life
- Bright Eyes
The Predatory Wasp of the Palisades is Out to Get Us!
- Sufjan Stevens
Here are some philosophical questions I had while sitting on a bench by the river.
Where exactly did Adam come from?
How can space be possibly expanding?
Why was that pork and apple pasty
so freaking good?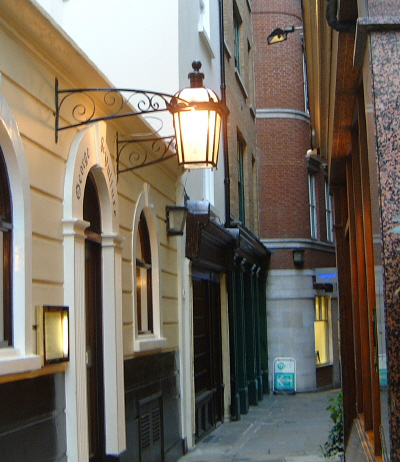 Then I joined another London walking tour, this one called
Apparitions, Alleyways, and Ale
. I know, I know. You think I'm a big nerd. Well, the cat's out of the bag: I am a super big nerd. And I sure love two things: ghost stories and alliteration. What could be more perfect? Remember, I'm still alone and I'm still really enjoying it. You don't need to feel bad for me, at least until the tour took a pitstop at a ghostly old pub, and everyone starting drinking and chatting with their buddies. Seeing that I was enjoying my little cranberry juice alone, again - a super big nerd -, the tour guide, Russell, motioned me over to sit with him. So now my nerd quotient goes through the roof, because the tour guide felt like he needed to befriend me. Doesn't matter. Within about 5 minutes, I had a friend for life. We hit it off. Russell is an actor, about 50 years old, and is a master storyteller. He told me ghost stories that he doesn't tell the big group. And I told him my stories about Miles in Dawlish and the ghostly voices at my school in Exeter. After the tour was over, and we passed through a churchyard filled with the bones of plague victims and the occasional apparition of a legless monk (it's all on our way to the Tube stop) Russell pulled me aside and showed me a few more places of supernatural interest in an alleyway off the beaten path. So pity me not! I got a special tour, and all just because I was alone, a good listener, and apparently friendless.